The Brook Taverner Journal
How To Wear a Black Suit With Brown Shoes? A Full Gentleman's Guide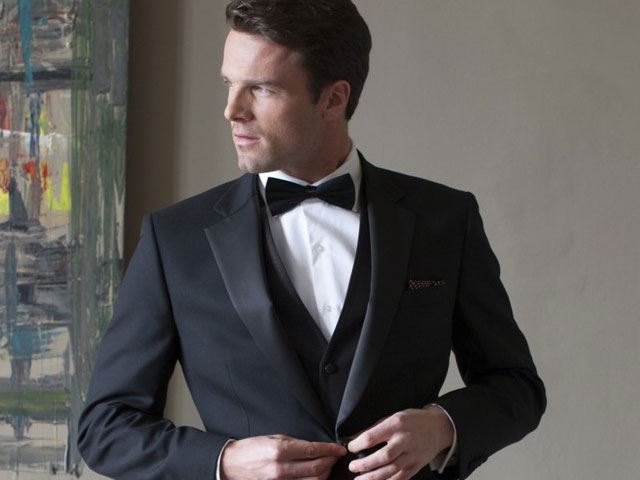 How To Wear a Black Suit With Brown Shoes? A Full Gentleman's Guide
There's a topic that divides the waters when it comes to menswear. The controversy around combining a black suit with brown shoes has experts at both ends arguing if it's a capital sin or a fashionable choice.
Some would say it's an absolute no-no and that you should never cross that line. Others embrace the trend but with caution. The main reason for this is that traditionally, black suits have always been paired with black shoes for a streamlined, sleek look, especially suited for formal occasions. But many gentlemen now understand that there is such thing as the perfect brown shoe for a neat black suit.
3 Things to Consider Before Combining a Black Suit with Brown Shoes
1 - Occasion and Time of the Day
The good thing about dress-code is that some rules are so strict that they end up being a no-brainer. By sticking to the traditions and understanding the different etiquettes nothing can go wrong.
By general rule, when you have some room for innovating with your outfit, you can follow a simple basic rule: the more formal the venue, the darker the brown of your shoes should be.
2- Understand the Process of Putting your Perfect Outfit Together
Is your suit for everyday business meetings? A bit more casual, but still formal like a Casino Tailored fit?.
What type of fit does your suit have? Is it a classic, a modern or a slim fit?
Are your trousers flat-front or pleated?
Which type of accessories would you wear?
What's the colour and style of your shirt?
All these questions will guide you through the process of getting the idea of which type of brown shoes should accompany your whole attire. Your shoes are like the icing on the cake; they will give the final touch and create the overall concept of your look.
3 - The Design, Colour, Shade, Material and Construction of Your Brown Shoes
Just as you did with your suit, do the same exercise with your shoes. Light brown Derby shoes don't send the same message as a pair of burgundy Oxfords. Would the shoes have the eyelets stitched under the vamp –an elegant detail to consider– or on top of it?
It may seem like so much to think about. So, before we keep going, we'll explain the most popular features of formal brown shoes that you can combine with a black suit.
The Type of Brown Shoes You Can Wear With a Black Suit
From the most formal to the formal-yet-relaxed design, each classic type of shoe has characteristics on its own, but then, the final details will determine specifically if these are what will suit you best.
Oxford
This should be your go-to for formal occasions either in black or brown. These lace-up shoes, also known as "Balmorals" have a sleek appearance as the "facing" --where the eyelets are located—is invisible because it's sewn under the vamp.
Monk Strap
For some, the single monk strap is timeless and exudes a sense of elegance if you are looking for an option to lace-up shoes.
Blucher
Also known as Derby's, in this style, the sole and the eyelets are sewn on top of the vamp giving the Derby's a more informal vibe. If you are looking for a shoe you can wear for business meetings, this could easily be your choice as they are quite popular among businessmen.
The Different Type of Details
Toe Design
These can be either plain or capped. A cap toe would have an extra piece of leather and even it's acceptable as formal, a plain toe is your go to if you are really putting the effort in paramount elegance.
Another option are shoes with brogues—holes in decorative patterns. This can be quarter brogues with no perforations on the toe cap, semi-brogues with perforated toe caps and no wings and finally, full brogues with patterns extending to the wings of the shoe.
As per the shape of the toe itself, this can present a chisel toe or be rounded.
The Sole
If in doubt, always go for a single leather sole. It may not be as warm and protective as a double leather, but it's the most elegant one.
The Construction
Goodyear welt, Blake stitch and Norwegian welt are the ones you would've heard the most. The important thing to know is that the Goodyear welt includes a strip made, in most cases, of leather that runs around the perimeter of the outsole. As it includes cork or other porous materials, the shoe gets to breathe and mould to the shape of the foot.
The Leather
Shiny patent leather shoes where once the mandatory option for tuxedos. Nowadays men wear these for different occasions. The soft or smooth leather is also another go-to for formal occasions. Full Grain Leather ensures maximum durability and top quality.
The Colour and Shade
The three main types of brown in leather shoes are light brown, standard brown and burgundy. The shades can range from cognac, bronze, mahogany to bordeaux. If torn between which colours to choose to combine with your black suit; think of it as the most formal the occasion, the darker the shoe.
Which Type of Shoe and Detail Combination Is Better of My Black Suit?
The Most Formal
Dark brown, chisel toe, patent leather, single leather sole, whole cut Oxfords. These are the absolute sign of elegance and formality. If you get your feet on a pair of these, it won't go wrong.
Everyday Formal
A pair of soft leather Derby's with a brogue of your choice, in a lighter tone of brown. If you want to make a statement choose a burgundy coloured pair of monk straps.
Which Accessories Should I Choose If Wearing Brown Shoes With my Black Suit?
Keep it simple; choose neutral tones and soft textures. If you want to add a dash of colour, do so with subtlety, maybe a silk tie with dots within a neutral-brown palette.
Your belt should always match the tone, style and leather texture of your shoes, so keep this in mind when you make a purchasing decision.